Genomics Proof of Principle Support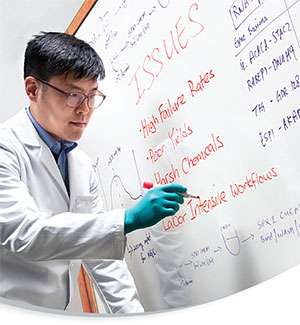 Solve Your Nucleic Acid Purification Challenges
The Proof of Principle team is available to answer technical questions and optimize our genomic chemistry for your needs. Our PhD scientists will work with your samples or similar commercially available samples to make our chemistry the best solution for your lab.
Live consultation with purification experts
Proof of principle support
Highlighted Extraction Protocols
Sample Types from Customers and Protocols Developed
Beckman Coulter makes no warranties of any kind whatsoever express or implied, with respect to this protocol, including but not limited to warranties of fitness for a particular purpose or merchantability or that the protocol is non-infringing. All warranties are expressly disclaimed. Your use of the method is solely at your own risk, without recourse to Beckman Coulter. Not intended or validated for use in the diagnosis of disease or other conditions. This protocol is for demonstration only, and is not validated by Beckman Coulter.
© 2019 Beckman Coulter, Inc. All rights reserved. Beckman Coulter, the stylized logo, and the Beckman Coulter product and service marks mentioned herein are trademarks or registered trademarks of Beckman Coulter, Inc. in the United States and other countries.
Beckman Coulter Life Sciences partners to offer Apostle MiniMax™ products, a trademark of Apostle, a liquid biopsy company.
Looking to Optimize a
Protocol for your Lab?
Genomics Support